>> Tuesday, April 22, 2008
If you are into light supper, you can always opt for some hot steaming rice cakes or fried pan cakes along the night street of Georgetown. This famous pan cake stall has been selling there along Lebuh Cintra for the past 50 years. The present owners are the third generation of the pan cake master. The steam rice cakes are made from white sugar, flour and rice wine. Normally those sold in the market for prayers purposes are in pink and brown (brown sugar). The pan cakes (Ham Chin Peng aka Salty Fried Cake) are with 3 different flavors – plain with 5-spice powder, red bean filling and glutinous rice filling.
There is no address for this place as it is just a stall by the roadside. You would not miss it as you can see many cars and motorcyclists stopping by to buy by the dozens. You can also buy some herbal tea from the stall next to it. Their famous is the boiled cane water which is believed to be able to cool down the body heat due to too much of fried and oily food.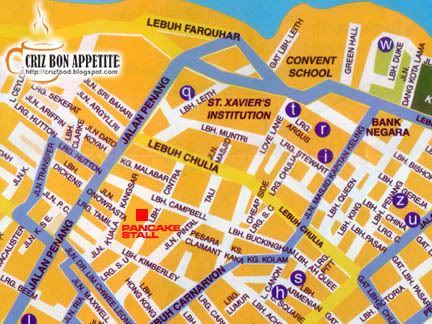 Name: PAN CAKE & STEAM RICE CAKE
Address: Lebuh Cintra, Penang, Malaysia.
Opening Hours: 7.00pm – 10.00pm
GPS: 5.417867, 100.333382
RATING:
Ambience: 5/10 (1-4 cheap, 5-7 average, 8-10 classy)
Food Choices: 5/10 (1-4 limited, 5-7 average, 8-10 many choices)
Taste: 7/10 (1-4 tasteless, 5-7 average, 8-10 excellent)
Pricing: 3/10 (1-4 cheap, 5-7 average, 8-10 expensive)
Service: 7/10 (1-4 bad, 5-7 average, 8-10 excellent)