>> Friday, March 18, 2011
I would say that I'm quite lucky to be living in this part of the world where food can be quite abundant everywhere and at any time. Other than those fancy restaurants scattered everywhere around town, you would also get those delicious street food. Those could be heavy meals, light meals or even snack of different shapes and sizes. Boy~ believe me, there are more than a few hundred variety of snacks available for grabs. Of course, my favorites would be those simple and yet fulfilling fritters.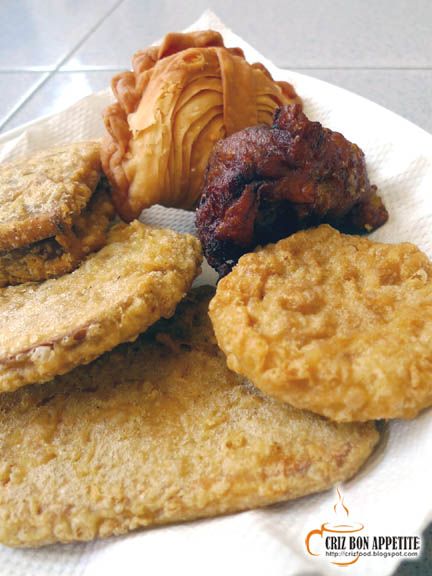 One of the known ones would be the
Sweet Glutinous Rice Fritter (Thnee Koay)
where a slice of the sweet delicacy would be clamped between a slice of sweet potato and a slice of yam, prior to be dipped into a tempura like batter and deep fried to perfection. This is one great snack that no one would want to miss out. Another one great snack would be the savory type of
Curry Potato Puff
. If you are lucky, you might even find some stalls selling those filled with additional chicken, beef, mutton or even peanuts. The
Mashed Banana Fritter
is something I love a lot too. There's actually no secret recipe for this snack as it only contains mashed ripen banana with frying flour. The end product can be real delicious.
There are also many other nice fritters available such as the
Mung Bean Fritter, Yam Fritter, Sweet Potatoes Fritter, Whole Banana Fritter, Tapioca Fritter, Cempedak Fritter, Breadfruit Fritter
and many more. Do you know why I love those snacks so much? It's because they are simple yet less messy for me to consume while doing practically anything online such as FaceBooking, playing online games, watching online movies, or even busy chatting away through MSN or Skype. How nice it has always been to savor those nice snacks with a cup of my favorite green tea.